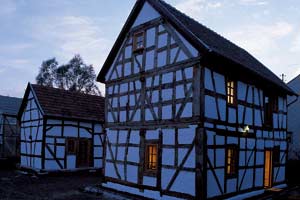 Anyone looking for an idyllic and romantic overnight stay in the Eifel will find it with great enthusiasm in Birgel.
Head miller Erwin and his mill team have created a place of romance here with his 4 half-timbered houses and his mill hotel.
---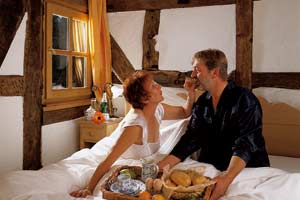 The 4 half-timbered houses in Morenhoven (near Bonn), Goldhausen (Westerwald) and Bengen (Ahrweiler district) were dismantled and rebuilt 1: 1 in Birgel.
Equipped with old furniture, you can enjoy romantic hours for two or in a group.
---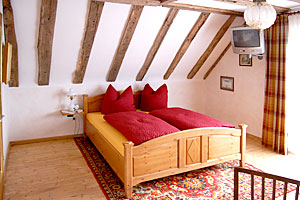 The hotel offers an addition to the apartment complex. It has 8 double rooms and is located on the large mill area.
A romantic overnight stay with a lot of love and taste for detail awaits every guest in the mill.
---
Arrangements in the historical watermill
Romantic weekend – romantic hours for two
Easter in the Eifel – an Easter package in a class of its own
Holiday package – eventful days around the May holidays
New Year's Eve in the Eifel – Experience an exclusive New Year's Eve holiday in the Eifel!
Winter package – romantic short break during the week
Christmas in the Eifel – stylish and enjoyable Christmas in the historic watermill
Honeymoon – After your wedding , experience your honeymoon or the honeymoon in our cozy hotel
We look forward to your inquiry under Tel .: 06597/92820 or via our contact form !