Historic water mill Birgel – Welcome to the mill experience center

The Eifel is one of the most extraordinary landscapes in Europe. In the heart of this landscape, in the Vulkaneifel, is the historic water mill. This place, lovingly cherished by head miller Erwin and his mill team, breathes the spirit of tradition, hospitality and satisfaction.
If you quit your job at the age of 48 and plan to only do a hobby for the next 50 years, then you speak of a healthy mind and happiness. "A healthy mind" will not tire you. "Luck" is another name for willpower.

"Glück zu" and wish you many happy hours here with us
Head miller Erwin von der Mühle and his milling team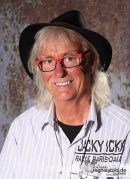 Season start 2023 – We are open!
Beer garden, brewery bar & snack bar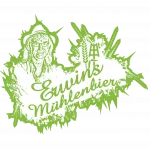 Beer garden, brewery pub
Daily 11 – 22:00
Brewery snack
Daily 11 – 21:00
Pre-order: +49 151-70124851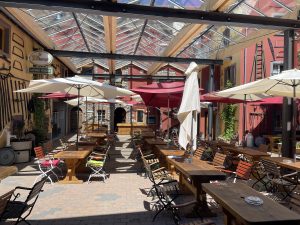 Inn to the sawmill

Opening hours
Monday-Thursday 17:30 – 22.00
Friday & Saturday 11.30 – 22.00
Sunday 11.30 – 20.30
Monday to Thursday (for groups of 20 people or more): 12:00 – 22:00
Kitchen (acceptance of orders)
Monday to Thursday 18.00 – 21.00
Friday & Saturday 12.00 – 14.30 h & 18.00 – 21.00 h
Sunday 12.00 – 14.30 h & 17.30 – 19.30 h
Reservation under +49 6597 92820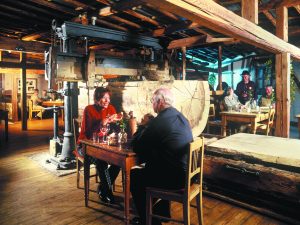 Sightseeing flight over the Historic Water Mill Birgel
Now new: Brewing beer with Erwin
Learn everything from A-Z you need to know about brewing beer
The brewing plant of the head miller Erwin is the latest addition to the historic mill site and was reconstructed by himself according to old conditions. Brewing beer involves manual labor during mashing and lautering, as there are no agitators or pumps. The most difficult part is maintaining the temperature in the wood-fired brewing kettle. Be a brewing assistant and let yourself be taken back to the good old days of the purity law.
Now available in the online store & Mühlenlädchen:
The culinary gift box service
We give you great gift ideas!
There are endless occasions and opportunities to give joy and recognition to life partners, friends, relatives, neighbors, acquaintances or business partners with a special and high-quality gift. Especially great is the joy of the recipient, if the gift is something SPECIAL. And that's where our unique gift boxes, filled with the finest specialties from the mill, come in. For any occasion. For every taste.
Online Shop – Experience the pleasure of the Historic Water Mill at home!