Historic water mill Birgel – Welcome to the mill experience center

The Eifel is one of the most extraordinary landscapes in Europe. In the heart of this landscape, in the Vulkaneifel, is the historic water mill. This place, lovingly cherished and cared for by Chefmüller Erwin and his mill team, breathes the spirit of tradition, hospitality and satisfaction.
If you quit your job at the age of 48 and plan to only do a hobby for the next 50 years, then you speak of a healthy mind and happiness. "A healthy mind" will not tire you. "Luck" is another name for willpower.

"Glück zu" and wish you many happy hours here with us
Head miller Erwin von der Mühle and his milling team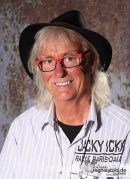 The historic water mill was badly damaged by the floods
Here you will find information about the current situation and how you can support us.
Discover the historic watermill
Sightseeing flight over our mill area