Experience day in the historical water mill Birgel
The exciting group experience in the Volcanic Eifel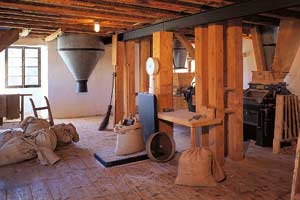 11.00 Start of the guided tour
In the bakery, visitors watch how the loaves of bread are made from sourdough. It is explained to them and how to bake in the stone ovens. This bread can then be bought.
---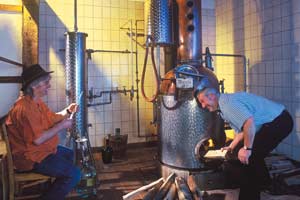 Visitors then tour the flour mill, sawmill and old blacksmith shop. While grain is being ground in the mill, a horizontal gate operated by water power cuts wood in the sawmill.
360 ° panoramic images of the mill>> (in new window)
---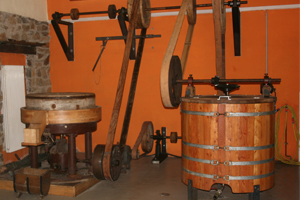 In the mustard mill you will learn how the mash is prepared from the mustard seeds and how the Eifel mill mustard is produced. By arrangement, you can also "make your own mustard" here. How we produce our own rapeseed oil is explained and shown to you in the oil mill dating from 1841. In the distillery gallery you will be shown a restored and fully functional schnapps distillery. Also you can get a free sample of our homemade liqueurs, such as sloe or herbal liqueur. By arrangement, we also carry out schnapps samples.
---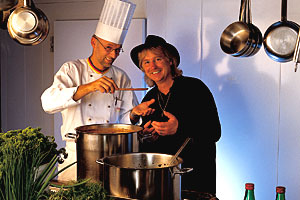 12 noon lunch as a 3-course menu in our restaurant
Millstone bread with crackling lard
soup of the day
Mulled meat with champagne-cassis-mustard sauce with homemade pasta and market vegetables or Birgel mustard crust roast with buckwheat cheese dumplings and market vegetables or pikeperch fillet with tarragon mustard sauce, potatoes and market vegetables
dessert
---
2.00 p.m. group tours again
3 p.m. coffee time
We serve in our restaurant
· A piece of covered apple pie
· A pot of coffee or tea with a second helping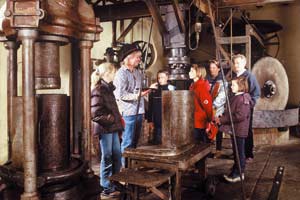 The price for the entire service, consisting of:
Guided tour of the mill, lunch, coffee/cake and a free drink (beer or soft drink).
from 100 persons 39,50 € per person
from 40 persons 41,00 € per person
from 25 persons 45,50 € per person
from 10 persons 51 ,00 € per person
You are also welcome to end this day with dinner!
Of course, we can also put together your individual adventure days for you.
We look forward to your inquiry at
Tel .: 06597/92820 or via our contact form !