Experience romantic hours for two
The arrangement is now bookable again on the weekends. From Easter 2023 the arrangement can be booked again as usual also during the week.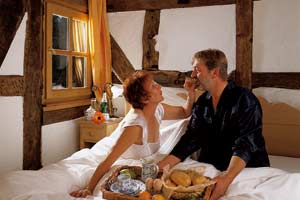 If you want to experience a romantic weekend in the Eifel, you can't miss the gem in Birgel. The all-round concept of the mill offers romantic living, good food and drink . A good-humored and attentive mill team round off the time with us in a cozy atmosphere. A tour of the mill area is mandatory to see the old mills in operation.
---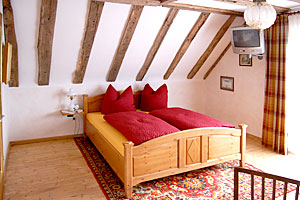 The romantic mill hotel offers the enjoyment of the attention to detail and the idealism of the mill boss. The hotel has 8 rooms and is equipped with designer bathrooms and old furniture.
The romantic hotel suite complex, which consists of half-timbered houses that are between 280 and 380 years old, gives the romantic weekend a special charm and makes the journey home difficult.
---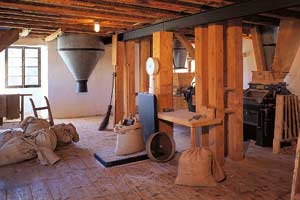 In the half-timbered houses restored by the head miller Erwin and his milling team, romance and the love that goes with it know no bounds. Give it away now as a voucher ! We look forward to your inquiry under Tel .: 06597/92820 or via our contact form !
---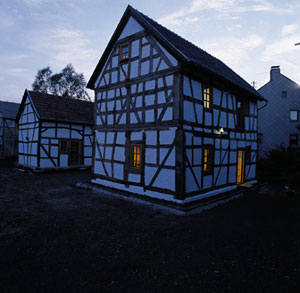 The offer includes the following services:
– 2 x nights for 2 persons
– 1x welcome liqueur (per person)
– 1 x glass of sparkling wine at breakfast (per person)
– 2 x breakfast buffet for 2 persons
– 2 x dinner as 4-course menu for 2 persons
– 1 x guided tour of the mill for 2 persons
– 1 x free parking space
Prices for two persons:
Prices 1 night:
| | |
| --- | --- |
| in double room hotel weekdays | 170,00 € |
| in double room hotel weekend | 195,00 € |
| in apartment weekdays | 195,00 € |
| in apartment weekend | 215,00 € |
Prices 2 nights:
| | |
| --- | --- |
| in double room hotel weekdays | 250,00 € |
| in double room hotel weekend | 355,00 € |
| in apartment weekdays | 270,00 € |
| in apartment weekend | 375,00 € |
The hotel's hiking tax of € 1.50 per person per night is payable on arrival at the hotel.
---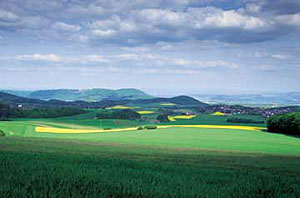 Day 1: Enjoy the beautiful landscape of the Eifel on your arrival. When you arrive at the mill, we will greet you in a friendly manner, explain the process to you and accompany you personally to your room. You will spend the night in a room of approx. In the evening a welcome drink and a delicious dinner from our own distillery awaits you.
---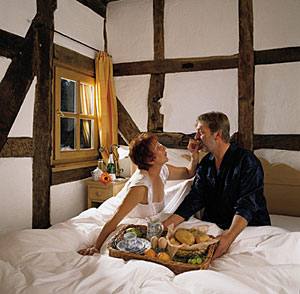 Day 2: The day begins with a rich breakfast buffet. Our home-baked bread, sausage, cheese, jam, egg dishes, yoghurt, quark and muesli will give you the vitality and strength you need for the whole day. Experience an unforgettable guided tour through the unique mill area on the first day. Use the afternoon to explore the surroundings of Birgel on foot. In the evening, dinner from our own brewery awaits you again.
---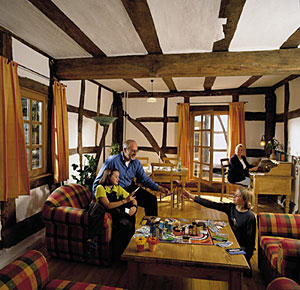 3rd day: The last breakfast is enjoyed. After breakfast you can buy all the delicious things that you have tasted in our mill shop and then look forward to a safe journey home.
---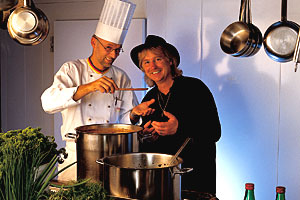 ---
---
If you have already planned a specific date for your stay, we ask you to inquire about availability on your preferred date. Extension days or a combination of different arrangements are possible. If you would like further information about our house, please do not hesitate to contact us at 06597 / 9282-0. Vouchers: You can also order this arrangement as a decorative gift voucher. We usually send the voucher to the post on the same day.
Historic water mill Historic half-timbered hotel Distillery · Mustard mill, mill shop · Seminar house, mill museum
Mühlenstrasse 1 54587 Birgel / Vulkaneifel Telephone 0 65 97 – 9 28 20
We look forward to your inquiry under Tel .: 06597/92820 or via our contact form !
---
Leisure activities nearby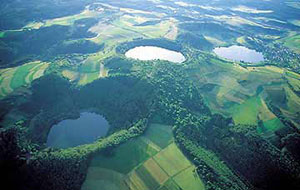 The landscape is shaped by volcanism and, due to its geological appearance, is a landscape that is unparalleled in Germany. Anyone who has seen the funnel-shaped depressions with the circular maars will realize why this area is called the Vulkaneifel.
Around 350 eruption centers tell of the fiery and exciting history of the volcanic Eifel. Geo-museums and numerous geo-facilities, such as geo-paths and geo-parks, reveal scientific phenomena. Carefully selected cycling and hiking tours lead to the treasures of this fascinating landscape. For detailed information – ask us!
---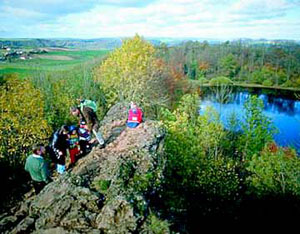 Hiking tour to Steffeln approx. 10 km
Hiking tour to Schüller approx. 8 km
Hiking tour to Hillesheim approx. 10 km
(Interesting for groups!)
---
Reachable in 10 minutes by car:
---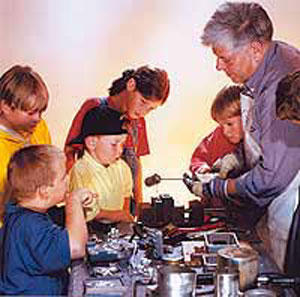 Jünkerath Iron Museum Here, the whole range of iron processing from the 7th century BC is presented. Until the 19th century, as iron processing played a major role in the Eifel throughout this period. From mining to the beginnings of smelting and industrial production, the development of iron processing is documented. One focus is the furnace plate and furnace manufacture.
---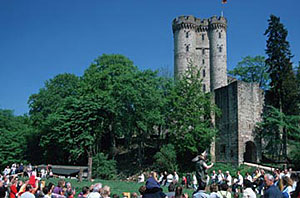 Eagle and Wolf Park Kasselburg The 20 hectare park around the historic castle complex with dense forests, lush meadows and diverse enclosures for birds of prey, wolves and other animals is an experience for the whole family.
Kasselburg's specialties are flight and hunting shows with various birds of prey such as golden eagles and kestrels. Golden eagle 'Wotan' and his 'cronies' live in the walls of the old castle ruins from the 12th century.
---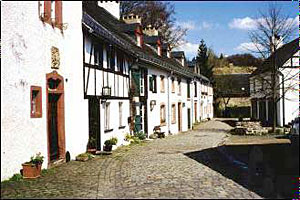 Historic town center Kronenburg and Kronenburger See The Kronenburger See with its numerous sports and fitness options (boating, fishing, beach, playgrounds, fitness trail, etc.) is an ideal environment for summer activists.
---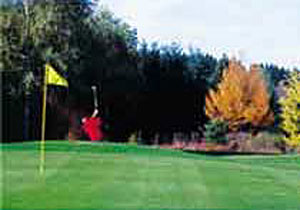 18-hole golf course in Hillesheim Guests are always welcome, registration is recommended on Saturdays, Sundays and public holidays. A club ID with a registered handicap is required. The course is approx. 500 m above sea level and is open all year round (winter greens)
---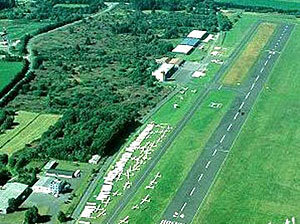 Dahlemer Binz: Public airfield and glider airfield in the Eifel It was not so long ago an insider tip among sport and glider pilots who particularly appreciate the fascinating combination of physical challenge and nature experience.
---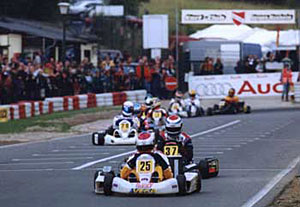 Dahlemer Binz: go-kart track
---
Reachable by car in 25 minutes:
---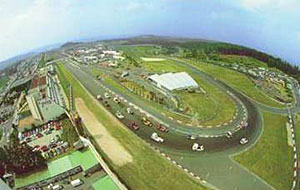 Nürburgring adventure world – cars, action & attraction – karting or ring taxi: an experience for the whole family.
---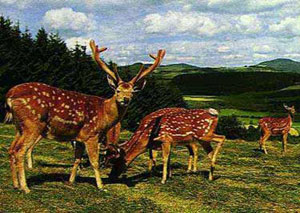 Daun Wildlife Park The park itself is a huge forest with streams, clearings and thickets. Here you can experience red deer and fallow deer, mouflons, yaks and dybowski / sika deer in almost the wild on an 8-kilometer car hiking road. A monkey outdoor enclosure with over 40 free-roaming Barbary macaques has recently been opened for you.
Lively information, fun and games are provided in an exemplary manner. A huge adventure playground delights the young guests: climbing castle, pirate ship, tower, natureum and much more. Your children are in good hands here. Fast-paced fun right next door: the 800-meter-long summer toboggan run at the Daun Wildlife Park. Simply get on the roller-bob and set off for a fast ride down the mountain.
---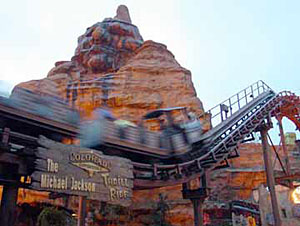 Phantasialand Brühl adventure park for young and old with many attractions.
---
We look forward to your inquiry under Tel .: 06597/92820 or via our contact form !