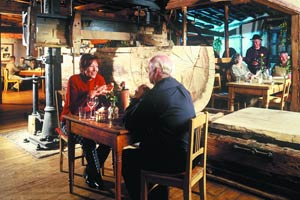 On the grounds of the historic watermill there are 4 historic rooms in which our mill delicacies are served. The specialties from the gastronomy are only cooked in one kitchen and by the chef HP and his team. The kitchen offers rustic, down-to-earth Eifel food as well as gourmet dishes. All rooms can also be booked for family celebrations, company celebrations including catering.
Click here for the menu and opening hours
---
Currently open for you:
---
Brewery beer garden
Since 2021, in addition to the four fully functional mills, romantic half-timbered suites, a registry office and many other attractions, head miller Erwin also operates his own mill brewery. A new covered beer garden invites you to sit together and linger. Enjoy a home-brewed mill beer and delicious grilled food from our mill grill.
---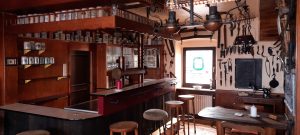 Brewhouse
Also in the cold season we are there for you! In addition to our brewery beer garden, our rustic brew pub is now open. Look forward to Erwin's home-brewed mill beer and a delicious food offering at both brewery locations, such as fresh grilled chicken, hearty brewery chops, succulent potato pancakes and much more.
---
Open again for you from 07 April 2023:
---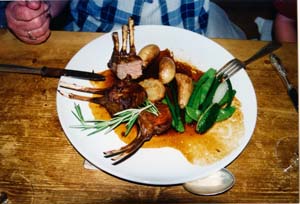 Daily catering "Wirtshaus zum Sägewerk"
In the summer months and especially on weekends, we recommend reserving a table. In addition to Eifel specialties, the tavern gastronomy also offers gourmet delicacies. In addition to the daily menu, there is also a "special recommendation from the chef" depending on the season. The inn has about 80 seats.
---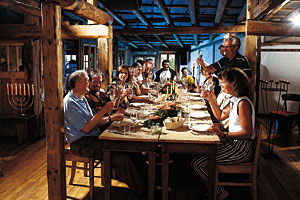 Restaurant "Le Moulin"
The former gourmet and delicatessen restaurant is now part of the menu in the inn.
Those who like to party there are welcome to use the restaurant to themselves for their guests (from approx. 25 people). Total seating for a maximum of 50 people.
---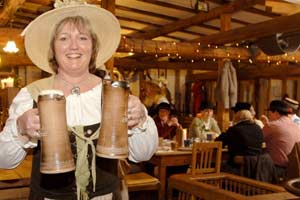 Half-timbered room
The half-timbered room is 12 x 8 m in size and can accommodate around 65 guests. Here, too, the specialties and delicacies of the gourmet kitchen are served as a menu or mostly as a buffet. An anteroom offers the possibility for champagne receptions or later as a bar table.
---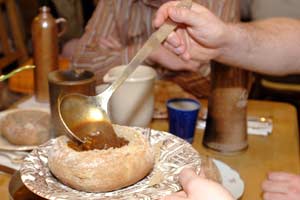 Restaurant "Brenn-Galerie"
The restaurant "Brenn-Galerie" offers our largest space for celebrations. It offers space for up to 250 people with normal seating and is therefore very suitable for company parties, weddings and birthdays. The room was named "Brenn-Galerie" because our schnapps distillery is also located here and our schnapps specialties are made here. The ambience of the adjoining buffet room leaves nothing to be desired. Here, too, the specialties and delicacies of our gastronomy are served as a menu or in buffet form.
Comprehensive advice and smooth implementation of your family or company party guarantees yours
Head miller Erwin with his milling team.
Menus
Click here for our menus!