Structure and history
Our historic flour mill dates from the 13th century and is the largest flour mill that has ever stood in the Vulkaneifel. The Reifferscheid family could live up to the 1970s with a grinding capacity of 70 quintals of flour.
But even this historic grain mill then had no chance of survival against the large industrial mills.
---
Function of the watermill
The historic flour mill was powered by wooden water wheels until 1917, when it was replaced by a more powerful turbine.
The old mill still operates today with four roller mills and one grinding train. The grain cannot be milled without the prior use of the cleaning machine and the sharpening and hulling machine.
After the grinding process, the plansifter is used in the historic grain mill to separate the flour from the meal, bran and semolina.
---
Whole wheat flour
Only wholemeal flours are ground in the historic grain mill. The freshly milled flour is mainly processed for our own needs in our mill-bakery.
---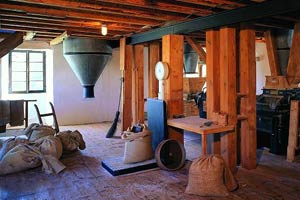 Panorama images
The path from grain to flour: Functioning equipment on four floors.
360 ° panoramic images >>
(in new window)
Learn more about the
historic watermill …
---