Our wedding on September 8th, 2018 in the "historical watermill Birgel"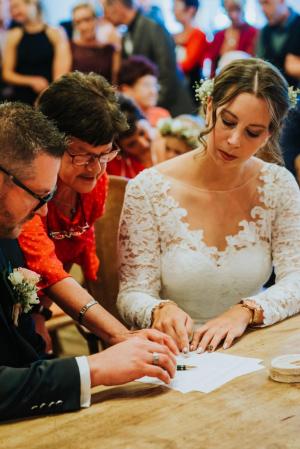 We celebrated our wedding ceremony on September 8th, 2018 in the "Historisches Wassermühle Birgel". And yes … we can say it was the perfect day for us!
---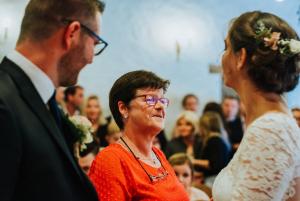 But let's start from the beginning: We quickly realized that the mill was our favorite location. Finally we contacted Erwin von der Mühle and made an appointment for the first meeting.
---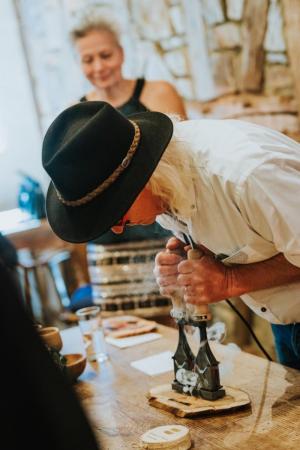 We felt at home right away, Erwin talked through a few things with us from many years of experience, showed us the registry office and the location, which he would prepare for celebrations of this size. We were thrilled, precisely because our special request from a combined civil and "free" wedding could be fulfilled there.
---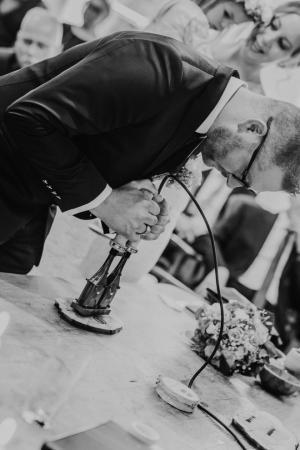 We had a lot of questions; an offer from Erwin followed. Explicitly detailed … listed and subdivided for large and small guests (children) with several options, so that as a couple you were faced with a large selection of specially coordinated and suitable options and could choose freely. Of course, we decided to "celebrate" our wedding there.
---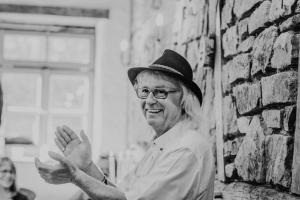 Erwin was always at our side with words and deeds and he also shone with a sovereign solution for every special question from an excited bride and groom. Rehearsal dinner is compulsory. It was super organized and made very warm. So we were able to put together our perfect wedding menu for ourselves. It was a super nice evening with Erwin by our side and we were able to discuss a lot of things about the celebration and the wedding. All of this in addition to hearty, delicious food or variations and good wine. Once again a successful evening, on which we felt very comfortable and understood.
---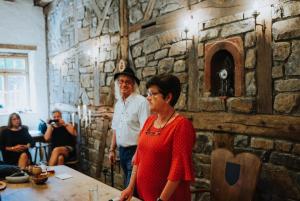 Then … the last meeting before the wedding. This time Karin Jaax, the registrar responsible for us, was also there. We got to know you a little better, as well as we got to know you. Again a direct hit, because the chemistry was right here too. Which once again confirmed that we had made the right decision.
---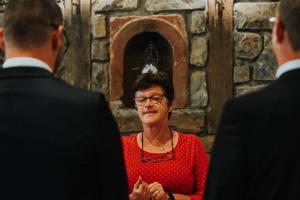 The day of the wedding came quickly. And everything was perfectly organized by Erwin and his / the Mühlen team. From arrival, wedding ceremony, celebration, overnight stay to departure, everything was exactly as it can only be dreamed of! This was also confirmed to us by our best man, parents and guests, who actually had to organize next to nothing on that day. The wedding ceremony was exactly as we wanted you to; relaxed and above all personal! We could enjoy OUR wedding ceremony to the fullest.
---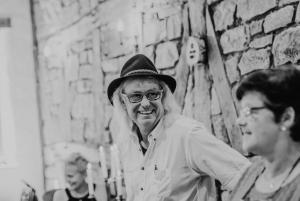 Erwin and Karin carried out this very nicely and, based on detailed research, had integrated very special things from our common past up to the present day into their "laudation". Requests that we had addressed were also cleverly incorporated and taken into account. The wedding was done, now the celebration could begin. Kudos to the whole Mühlen team involved. It ran smoothly, planned and organized down to the smallest detail, so that all guests and, above all, we could just enjoy our day and were downright pampered.
---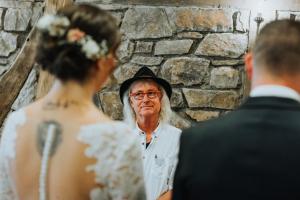 At this point, a huge THANK YOU to everyone involved, and especially to Erwin for the organization. You made a significant contribution to making it "THE PERFECT DAY" for us.
Greetings from
Simone & Manuel
with Mia and Sam
---