Relaxation and adventure: discover the fascinating nature and the historic mill site
Spend the night with a view of the historic water mill – a feel-good experience in the midst of nature
If you are looking for a top class hotel in an imposing and very scenic environment, then you should look for the picturesque village of Birgel on the Eifel map.
High-quality equipped hotel suites, embedded in a historical-romantic building in half-timbered style as well as our Eifel hotel with all comforts. And all this in the midst of the breathtakingly beautiful and wild landscape of the Volcanic Eifel.
---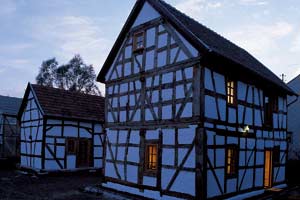 Staying at the Historic Water Mill – an all-round carefree package for your vacation in the Eifel region
Both vacationers and conference guests will find in our Eifel-Romantik-Hotel and the half-timbered hotel suites a triad that stands for a special feel-good experience: romantic living, excellent food and drink and last but not least a fascinating nature experience.
The mill site also offers many attractions for families with children.
---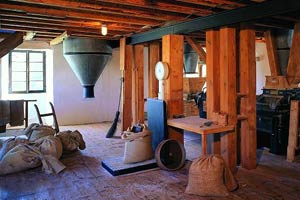 A view from the hotel room is a journey into the past
If you take a look out of the window, you will also discover the other structural rarities on the mill site. Among others, the four fully functional old mills, which have been completely restored, rebuilt or faithfully reproduced by the head miller. The head miller has turned his hobby into his profession and thus made the old masterpieces of the mill's art tangible for each of our guests. If you are interested in seeing these old mill treasures in action, you should experience one of our numerous course and activity offers on our mill site and book a little "journey into the past" !
---
The rooms – the equipment – the prices
On our mill premises there are 14 upscale rooms available for overnight guests. 8 rooms belong to the Eifel-Romantik-Hotel, another 6 rooms are accommodated in our half-timbered hotel suite complex. The rooms there combine the charm of the old half-timbered construction with the most modern technology and noble interior.
The rooms have shower/WC, color TV and some have a mini-bar and a balcony. In addition, we offer guests free access to our WLAN. In addition, a car parking lot is available for room guests free of charge.
The overnight rates for 2023 in the Eifel Romantic Hotel:
Overnight for 2 pers. or 1 pers.
Per night:
In double room: 115,00 €
In single room: 102,00 €
The hotel's hiking tax of € 1.50 per person/night is to be paid on site at the reception.
The apartments have color TV, minibar, kitchenette with refrigerator, living/dining room and designer bathroom. A car parking lot is also available here free of charge for room guests.
The overnight rates for 2023 in the hotel suite facility
Overnight stay for 2 people:
Cat. I 138,00 € p. pers.
Cat. II 158,00 € p. pers.
Cat. III 168,00 € p. pers.
Overnight stay for 1 person:
Cat. I 123,00 € p. pers.
Cat. II 123,00 € p. pers.
Cat. III 123,00 € p. pers.
Each additional person in the same hotel suite 39 € surcharge.
The hotel's hiking tax of € 1.50 per person/night is to be paid on site at the reception.
Book room – here it goes online!
You have decided to book a hotel room in the Historic Water Mill. We are very pleased about that. And we are very much looking forward to seeing you!
Here you can easily book your overnight stay in the Historic Water Mill online. For booking our arrangements or for special requests please contact us!
---
Experience arrangements – put together by us for you!
If you want to experience something special, you should take a closer look at our experience arrangements. Here you will not find a vacation "off the rack", but individual experience packages that have it all. Compiled with love and with feel-good guarantee! Experience special moments of happiness during your vacation in the Volcanic Eifel!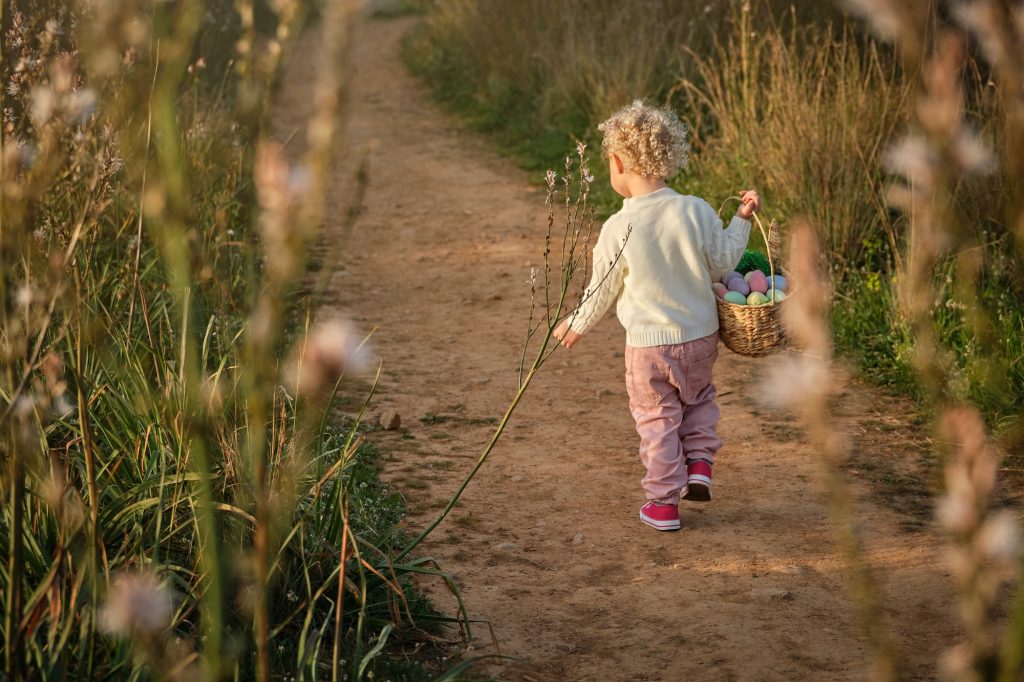 Easter arrangement in the Volcanic Eifel
Do you have plans for Easter? If not, our romantic Easter arrangement with our first-class Easter buffet (also for day guests!) would surely be something for you and your loved ones. "Seek and ye shall find!" With us you are also guaranteed to find lots of colorful Easter eggs!
Pure relaxation! And that over the Easter holidays! Experience romantic Easter days in idyllic Birgel in the Volcanic Eifel! Numerous culinary gourmet experiences are also on the Easter program.
Easter can come! We are looking forward to our Easter guests! Learn more…
---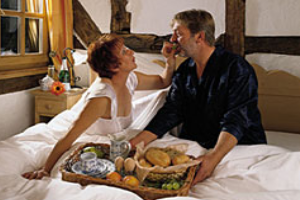 Love Weekend for Two – Romantic overnight stay for lovers – feelings of happiness included!
What couple does not wish for that. To have a little time for a harmonious togetherness and falling in love in a romantic landscape and in a romantic cuddle hotel. Here with us you can enjoy a romantic "Pa(a)rty for two" experience.
What goes into a great party? Fine drinks, excellent food, an exceptional ambience and a top location – it's all here! All you need to bring for your great pa(a)rty is your great partner! Learn more…
---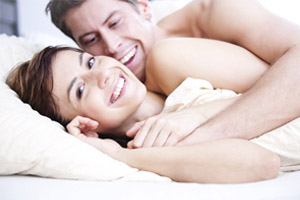 Cuddle romantic weekend in the Eifel
The romantic mill hotel and hotel suite complex offer a picturesque setting for a soothing and relaxing weekend for two. Here you can leave the stress associated with everyday life at home.
An enjoyable welcome liquor is waiting for you, but also a delicious 4-course menu. And all this in a cozy atmosphere.
In the half-timbered houses restored by the head miller Erwin and his mill team you are accommodated in tastefully furnished rooms. Learn more…
---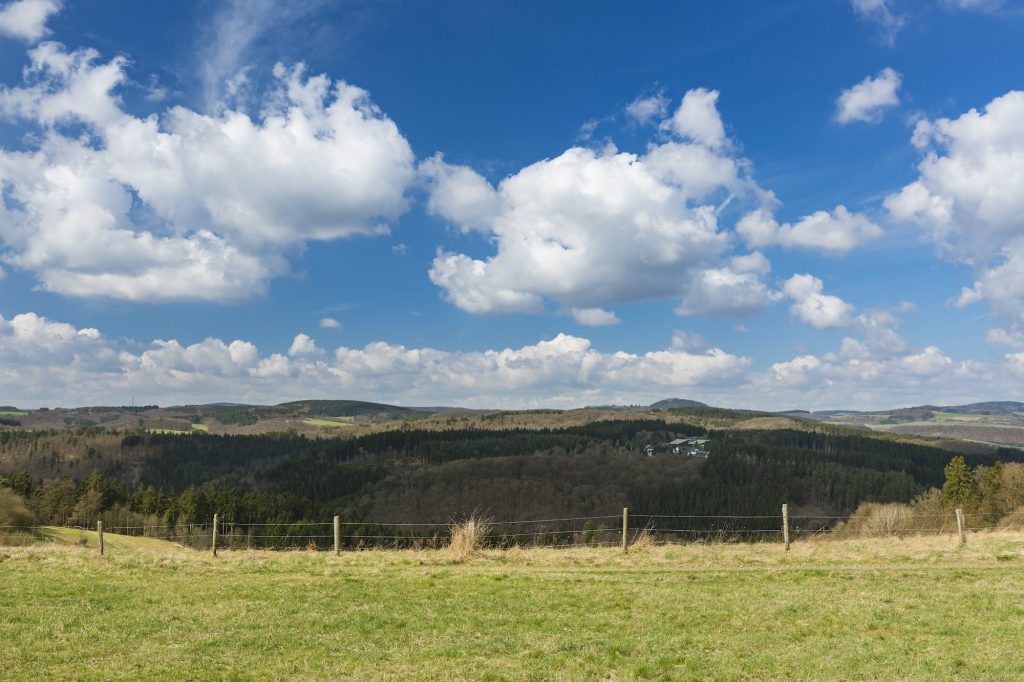 Eifel pamper weekend
Let us spoil you with a wonderful experience program in our mill. An active weekend arrangement awaits our guests. Experience an exciting journey with many culinary and musical highlights.
Our historic mill table convinces with five menu courses with our regional products. For dinner, the head miller Erwin will still serve you a three and a half hour entertainment program in a class of its own.
On Saturday, the program includes baking bread, making your own mustard and a guided tour of the historic mills. Our legendary jazz brunch on Sunday at 11 a.m. will bring the weekend to a close. Learn more…
---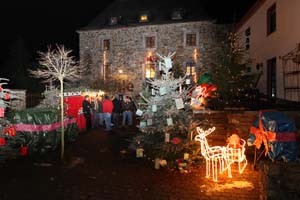 Christmas arrangement in the historic watermill
Experience stylish and enjoyable Christmas in a class of its own in the historic water mill, nestled in the breathtaking landscape of the Eifel!
Treat yourself to an unforgettable Christmas where you can unwind and enjoy a diverse program ranging from culinary delights to cozy overnight stays and exciting mill tours.
---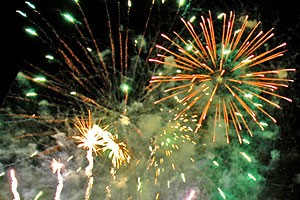 New Year's Eve arrangement in the historic watermill
Experience an exclusive New Year's Eve vacation in the picturesque Eifel, where historic charm meets modern comfort! In the romantic half-timbered houses of the historic water mill you can relax and enjoy the tangible history, while you can look forward to an unforgettable New Year's Eve with an 8-course surprise gourmet menu and live music.
Guests with and without RVs are welcome to experience the exclusive New Year's Eve celebration in the expansive parking lot. The dedicated team of the historical water mill will prepare many eventful and enjoyable hours for you, which you will not soon forget. Learn more…
---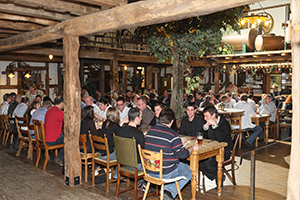 Whitsun arrangement
Enjoy relaxing overnight stays, feast on a rich breakfast buffet and indulge in a multi-course dinner menu and a hearty feast on Whit Monday.
During the Whitsun days you can visit all the mills and admire them in operation. For the younger guests there will be a varied program with creative and playful activities. Browse the Mühlenlädchen for homemade delicacies and discover the antique and flea market on the mill grounds. Finally, an exciting guided tour of the mill rounds off the Whitsun program and immerses you in the history and technology of the water mill. Learn more…
---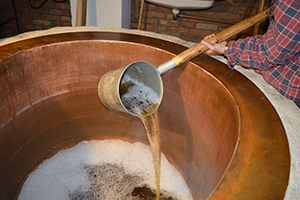 Well-being days with hiking, beer brewing and mill tour
Experience feel-good days in the historic water mill, combining hiking and brewing beer! Discover the newly designed adventure hiking area "Hirschbergsattel" with its circular hiking trails and the cozy "Bielenhof-Alm" as a highlight.
In the evening, enjoy a delicious menu at the inn "Zum Sägewerk" and learn with Erwin how to make your own beer.
Let yourself be transported back in time and escape from everyday life! Learn more…
---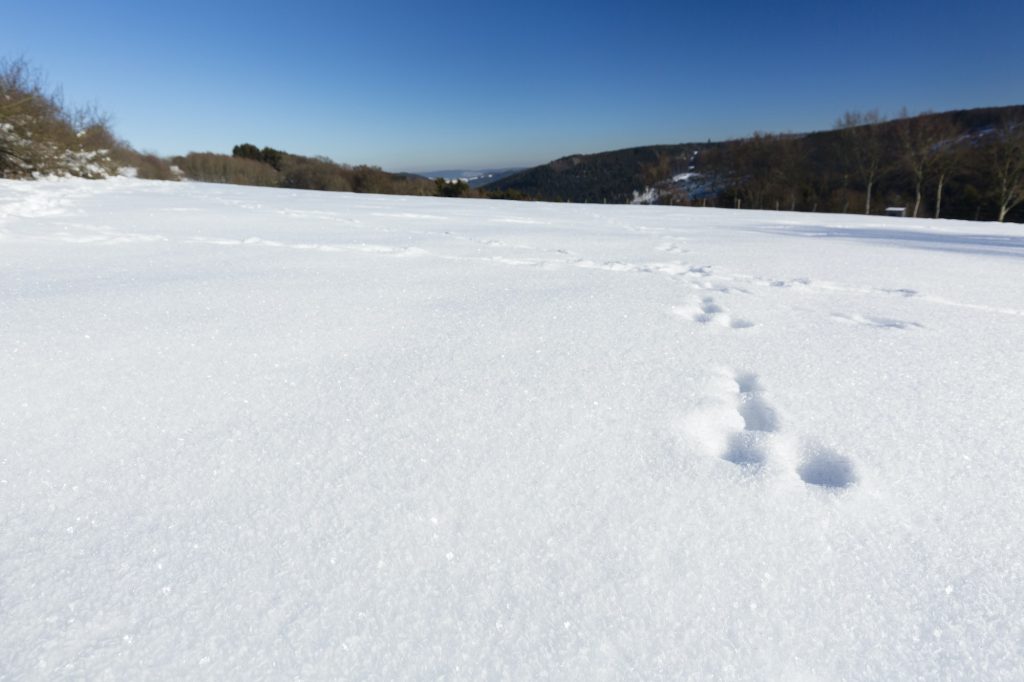 Winter arrangement
Discover the magic of the Eifel during a romantic winter getaway in the historic water mill! Let yourself be enchanted by the idyllic, snow-covered landscape and enjoy relaxing moments of togetherness. In this special ambience you will be welcomed by a friendly team and you can enjoy your love to the fullest.
During the day, the surrounding area invites you to explore, while in the evening you can unwind with a delicious candlelit dinner. Be pampered by attentive service and culinary surprises that will make your time at the historic mill in Birgel an unforgettable experience. Learn more…
---
The Eifel attracts with great excursion destinations – exploring the surroundings is worth it!
There are also many spectacular and exciting things to discover and experience outside our mill site!
The Eifel is packed with interesting sights and interesting destinations. Here we present a number of leisure activities, sports activities and excursion destinations for nature lovers.
Volcanism in the Eifel
The environment here has been shaped by volcanism and, because of its geological manifestation, is a landscape that does not exist again in Germany. Anyone who has seen the funnel-shaped depressions with the circular maars will realize why this area is called the Vulkaneifel.
Around 350 eruption centers tell of the fiery and exciting history of the volcanic Eifel. Geo-museums and numerous geo-facilities, such as geo-paths and geo-parks, reveal scientific phenomena. Carefully selected cycling and hiking tours lead to the treasures of this fascinating landscape. For detailed information – ask us!
Only 10 minutes by car from the Historic Water Mill:
Iron Museum Jünkerath
The whole range of iron processing from the 7th century BC to the 19th century is shown here. Throughout this period, iron processing played a major role in the Eifel. From mining to the beginnings of smelting and industrial production, the development of iron processing is documented. One focus is the furnace plate and furnace manufacture.
Eagle and Wolf Park Kasselburg
The 20-hectare park around the historic castle complex with dense forests, lush meadows and diverse enclosures for birds of prey, wolves and other animals is an experience for the whole family.
Kasselburg's specialties are flight and hunting shows with various birds of prey such as golden eagles and kestrels. Golden eagle 'Wotan' and his 'cronies' live in the walls of the old castle ruins from the 12th century.
Nürburgring World of Experience
Cars, Action & Attraction – karting or ring cab: an experience for the whole family.
Historic center of Kronenburg and Kronenburg Lake
Lake Kronenburg with its numerous sports and fitness facilities (boating, fishing, swimming beach, playgrounds, trim trail, etc.) is an ideal environment for summer activists and recreational athletes.
18-hole golf course in Hillesheim
Guests are always welcome here, on Saturdays, Sundays and holidays booking is recommended. A club ID with a registered handicap is required. The course is located at an altitude of about 500 m and is open all year round (winter greens).
Dahlem Binz:
Eifel traffic airfield and glider airfield / karting track
Not long ago, the Dahlem Binz was considered an insider's tip among sport and glider pilots, who particularly appreciate that fascinating unity of physical challenge and nature experience. If you want to turn fast laps in a kart, you should visit the kart track in Dahlem Binz.
Only 25 minutes by car from the Historic Water Mill:
Daun Game Park and Summer Toboggan Run
Lively information, fun and games are provided in an exemplary manner. A huge adventure playground delights the young guests: climbing castle, pirate ship, tower, natureum and much more. Your children are in good hands here. Fast-paced fun right next door: the 800-meter-long summer toboggan run at the Daun Wildlife Park. Simply get on the roller-bob and set off for a fast ride down the mountain.
The park itself is a huge forest with streams, clearings and thickets. Here you can experience red deer and fallow deer, mouflons, yaks and dybowski / sika deer in almost the wild on an 8-kilometer car hiking road. A monkey outdoor enclosure with over 40 free-roaming Barbary macaques has recently been opened for you.
Phantasialand Brühl
Adventure park for young and old with many attractions.
Quad driving – The hot ride over the volcano
Out and about on the most beautiful back roads in the Eifel. Ideal for beginners and also for professionals! – You will be accompanied by experienced guides! Individual packages can be put together!
More information and booking directly through our partner www.gero-quad.de.
Archery
You will be looked after by trained staff and instructed in the use of bows and arrows. This ensures that every shot is a hit.
Outdoor experiences and borderline experiences
You can also book outdoor experiences in the Volcanic Eifel: trial day rock climbing at the Hustley, cave exploration in the Gerolsteiner Land, outdoor team course, survival according to the elements, etc.
hikes
Hike the sights in the Volcanic Eifel, e.g. volcanic gardens, disused quarries, waterfalls, ice caves, etc.
Here is more information about it.