The wedding of Daniela and Alexander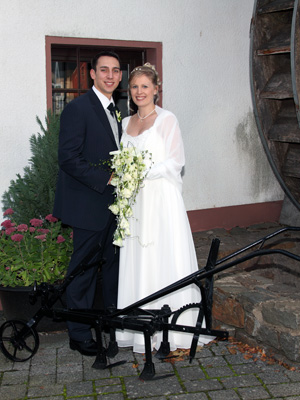 It was the best decision in September to get married in Birgel at the historic water mill. We were already enthusiastic about the good advice in the run-up to the wedding and the always very flexible mill boss Erwin let us refuse any request. The fantastic setting, the really excellent food, the attentive and always friendly service, the mill management, the registry office and its employees, the delicious wedding cakes, the champagne reception, the refreshing breakfast, the photographers and, last but not least, the wonderful overnight accommodation made the day simply unforgettable.
Each of our guests raves about how beautiful and magical this wedding was when we see them again. Everything was taken care of with great care and attention to detail, so you really felt comfortable. When asked what we might have done differently, we could easily answer: Nothing. We would definitely do it all over again. Now we would like to thank Erwin once again, who entertained us and our guests with a lot of eifel charm that evening until late in the night and thank all the other employees for the wonderful wedding weekend.
Daniela and Alexander