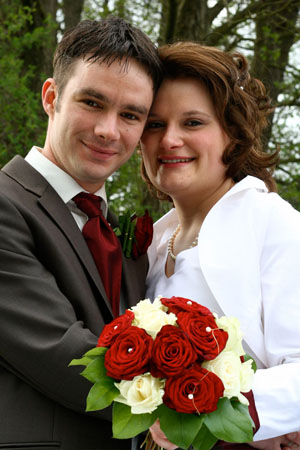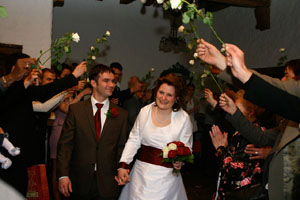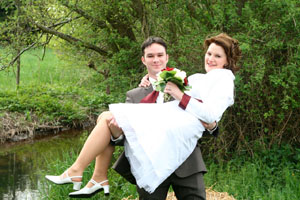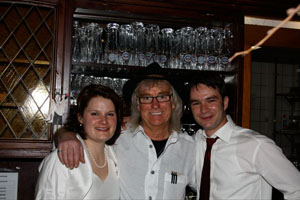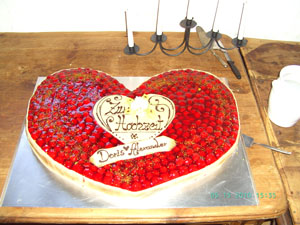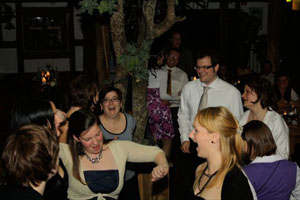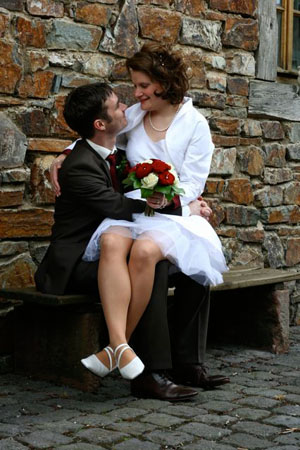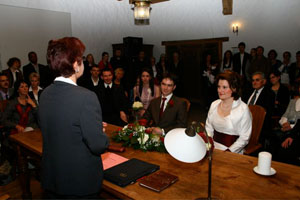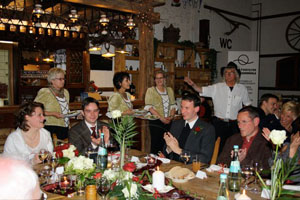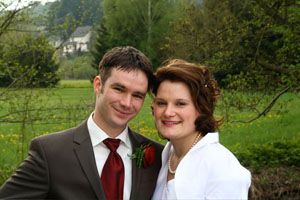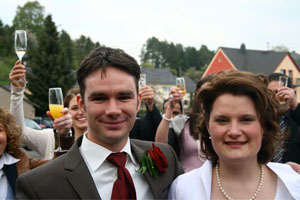 In mid-January 2010 we informed our parents that we were going to get married in May, on May 15th. It was on this day 11 years ago that we met and got to know each other. My mother Ute then asked: Do you already know where you want to get married?
Answer: In Cologne. Question: And where in Cologne? Answer: We don't know.
Have you ever thought of the Birgeler Mühle? Asked Ute. No, we don't know, although Alexander's parents live in Lissendorf and grandma and grandpa in Niederehe. Then take a look at the mill on your next visit to see whether it would be suitable for your wedding celebration.
Said and done.
Ute had previously asked the mill whether a wedding could be held on May 15th – a Saturday – and whether a celebration had not yet been booked on that day. Ms. Reetz immediately reported and said that the wedding room was still free and that you should contact the registrar.
On January 16, we visited the grandparents in Niederehe and then we visited the mill with our parents to get an idea of the location. Mrs. Meyer showed us the ballroom, the registry office and the mill.
We were all very impressed by the rustic ambience. One week later, on January 23rd. we met with Erwin for a first conversation. He had taken a lot of time and told us about the weddings that had taken place in the mill so far.
Erwin made us an offer, which we went through in peace at home.
We couldn't get the rustic ambience out of our heads. The decisive factor was then my wish to get married as an Eifel girl in the Eifel and not in Cologne.
Erwin then suggested to us that we should have a "test dinner" together in the mill and choose and determine what is to be served as a menu on the wedding day. We had initially thought of a buffet, but Erwin convinced us that a menu would be more appropriate for such an occasion. In retrospect, we can only confirm this. It was the right decision.
On February 28th we had arranged to meet for a rehearsal dinner. There was a large selection of different starters, soups, main courses and desserts as well as the corresponding drinks. Everything was excellent. We were spoiled for choice. We will not forget this day anytime soon, because on February 28th such a storm raged in the Eifel and in the whole of North Rhine-Westphalia. The train service was stopped, so Ute drove us to Cologne after dinner.
Now we were a long way further. We would also like to mention the very good cooperation and flexibility of the registrar, Ms. Jaax. At this point, too, I would like to say a heartfelt "Thank you". Our desired date, May 15th, was now fixed.
Ute called Erwin several times. She kept thinking of something new. He was very patient, he couldn't be disturbed. "You can call as often as you want, I'm always there for you!" A few days before the wedding date, Ute and Christine were back at the mill. Erwin stood by us again, gave us tips and assured us that we didn't have to worry, everything would be done as we wanted. It was like that.
After the wedding there was a reception with delicious mill bread and a huge cake as a strawberry heart. That, too, was Erwin's suggestion. Was great. We can only advise every bride and groom to respond to Erwin's suggestions, then everything will be perfect.
In the afternoon there was a guided tour of the mill. We went through the area in three groups. We were pleasantly surprised that the employee was also able to explain the mill and its history to our foreign guests in English. We were a society in which 12 nations were represented. All guests were very impressed by the mill and the excellent food.
The menu was served around 7.30 p.m. I would like to mention that Erwin himself was challenged on the wedding day by even more guests wanting a vegetarian menu, which had not been announced in advance.
To you dear Erwin and your kitchen team, once again a big praise and "thank you" for making it this way. Nobody noticed anything from the guests. The mess we created would probably not have been possible anywhere else. Sorry
Everything went like clockwork.
During the breaks between the individual courses, the "Eifel dialect friends" from Bad Münstereifel entertained the wedding party with suitable sketches.
After the delicious menu, the "Sleidanias" from Schleiden played. The live band made the guests dance and sing. After the band said goodbye at 2 a.m., the young generation got off to a good start on CD and laptop. The bride and groom, the last guests and of course Erwin left the ballroom around 5:30 a.m. The light was turned off in the hall and slowly it got light again in Birgel.
When we went to the mill for breakfast around 9.30 a.m., Erwin was already in a good mood at the bar and was present for the new guests.
Thank you dear Erwin and your mill team once again, very sincere thanks for an unforgettable wedding day in the historic watermill in Birgel
Doris & Alexander
Ute & Tom
Christine & Joachim