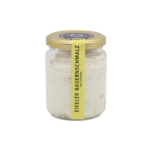 Lard – Eifler peasant lard with greaves
5,90 €
29,50 € / kg
Made from pork fat & refined with the finest spices, apples and fried onions
Delivery time:2 workdays after receipt of
Description
Reviews (0)
General information
Description
Our Eifler Bauernschmalz is a real specialty of the mill and a delicious delicacy based on grandma's recipe, made from pork fat and pork flavors. Its unique taste also makes it a favorite with our guests.
Our lard in production
For the production of the lard, the Flomen, that is the pork fat, is pressed through the meat grinder and then melted with little heat, which also creates the greaves. The finished lard is then immediately filled into a preheated 300 g jar and sealed. Then you let the lard cool down and you can even watch it change color from warm yellow to creamy white. Afterwards, we refine our lard by adding iodized table salt, apples, fried onions and selected spices. Our meat always comes directly from the production of regional companies in order to always guarantee the highest quality.
How do you enjoy the farmer's lard
Lard is a popular spread in rural cuisine and tastes particularly good on black and brown bread. Due to its hearty aroma, it is also often used in stews and for roasting.
Name of the food:
lard
Responsible food business operator:
Mariette Spohr GmbH
Mühlenstrasse 1
54587 Birgel